INSPIRED

BY

A

RACING

LEGEND

:

CONTINENTAL

GT

NUMBER

9

EDITION

BY

MULLINER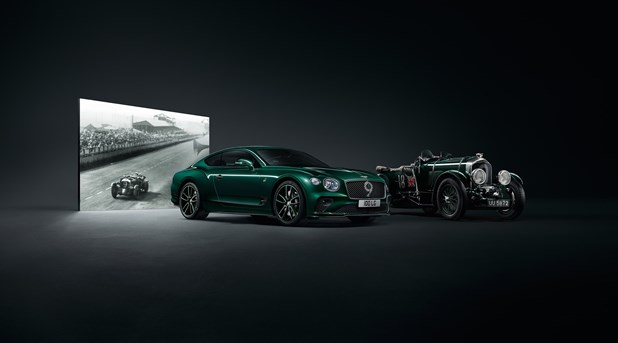 All Photos and Video From Bentley
(Crewe, 4 March 2019) Bent­ley has cre­at­ed the ulti­mate collector's ver­sion of the all-new Con­ti­nen­tal GT to cel­e­brate the company's cen­te­nary in 2019.
The Con­ti­nen­tal GT Num­ber 9 Edi­tion by Mulliner is inspired by Bentley's illus­tri­ous motor­sport past and incor­po­rates a num­ber of dis­tinc­tive fea­tures into the world's most lux­u­ri­ous Grand Tour­er. Just 100 exam­ples will be hand­built by Mulliner in Crewe, Eng­land, based on the Con­ti­nen­tal GT this year.
Num­ber 9 Edi­tion by Mulliner pays homage to Sir Hen­ry Ralph Stan­ley 'Tim' Birkin – one of the orig­i­nal, 'Bent­ley Boys' of the 1920s and '30s. Birkin was a Bent­ley cus­tomer, investor and a rac­ing dri­ver, full of entre­pre­neur­ial spir­it and ambi­tion – and through the deter­mined col­lab­o­ra­tion of man and machine, the 4 ½ litre 'Blow­er' was born.
No.9 was the super­charged Bent­ley 'Blow­er' Sir Tim raced at the 1930 Le Mans 24 Hours. He com­mis­sioned the pro­duc­tion of a series of 4 ½ Litre Bent­leys, pow­ered by a super­charg­er devel­oped with inde­pen­dent engi­neer Amherst Vil­liers. Pow­er increased from around 110 bhp to 175 bhp with the super­charg­er instal­la­tion. The impos­ing green car has since become the icon­ic rac­ing Bent­ley of the pre-war years.
The Num­ber 9 Edi­tion by Mulliner is dis­tin­guished by No.9 badge­work and a bold, match­ing front grille graph­ic. Cus­tomers have the option of either Virid­i­an green or Bel­u­ga black exte­ri­or paint, with 22-inch Mulliner Dri­ving Spec­i­fi­ca­tion wheels also in these colours, plus Black Line Spec­i­fi­ca­tion and car­bon bodyk­it.
Inside the Num­ber 9 Edi­tion by Mulliner cus­tomers have the choice of Cum­bri­an Green or Bel­u­ga her­itage hides, with increased gloss lev­els to the seats, inner door pan­el and oth­er areas. Debossed 'B' logos adorn the seat head­rests and door pan­els as they did the door pads of the 1930 'Blow­er'.
A unique­ly craft­ed dash­board fea­tures Engine Spin on the cen­tre con­sole. Often known as 'Turned Alu­mini­um', Engine Spin was a pop­u­lar rac­ing car and avi­a­tion fin­ish in the 1920s and '30s as it lim­it­ed light reflec­tion.
The cen­tre con­sole of the vehi­cle is enhanced by the inclu­sion of an exclu­sive British Jaeger clock face. Devel­oped through a part­ner­ship between Mulliner and British Jaeger, the clock is inspired by the orig­i­nal No. 9 'Blower's' dials and uses the same tra­di­tion­al man­u­fac­tur­ing meth­ods of race car dials from the vin­tage era.
The Con­ti­nen­tal GT's rev­o­lu­tion­ary Bent­ley Rotat­ing Dis­play has been fur­ther enhanced with a Bent­ley 'Blow­er' arte­fact. The Con­ti­nen­tal GT Num­ber 9 Edi­tion by Mulliner fea­tures a wood insert from the seat of Birkin's icon­ic 1930 No. 9 Le Mans race car, which was removed dur­ing a sym­pa­thet­ic ren­o­va­tion. This back­lit piece is set in resin and sit­u­at­ed in the mid­dle of the cen­tre dial of the rotat­ing dis­play, adding a piece of his­to­ry to each car.
Each of the 100 cars also fea­tures 18K gold plat­ed organ stops inspired by those in the No.9 'Blow­er' and '1 of 100' tread­plates.
Bentley's Cen­te­nary Cel­e­bra­tion
Bent­ley will cel­e­brate its cen­te­nary year on 10 July , 2019. From the very first pro­to­type cre­at­ed in a Lon­don mews to the phe­nom­e­nal­ly pow­er­ful and exquis­ite­ly craft­ed cars dri­ven across the world today, Bent­ley has trans­formed the face of lux­u­ry motor­ing. W.O. Bent­ley found­ed Bent­ley Motors in order to 'build a fast car, a good car, the best in its class'. That prin­ci­ple has remained at the heart of Bentley's vision ever since.
Every Bent­ley built dur­ing 2019 will have a col­lec­tion of care­ful­ly curat­ed design touch­es on both the inte­ri­or and exte­ri­or of the car. On the out­side, the badges on the bon­net, boot and wheel cen­tres will fea­ture a spe­cial­ly cre­at­ed metal­lic fin­ish around the 'B' in the logo in Cen­te­nary Gold. The bon­net and boot badges will also dis­play the years 1919 to 2019.
On open­ing the door, a wel­come light illu­mi­nates the ground with a Bent­ley sym­bol, while tread­plates high­light the key years. Inside, the Bent­ley wings and Bent­ley 'B' on both the steer­ing wheel and gear shifter are adorned with Cen­te­nary Gold, as is the 'B' on the key.
New Con­ti­nen­tal GT – A Pow­er­ful State­ment of Intent
The lat­est, all-new Con­ti­nen­tal GT com­bines spir­it­ed, focused per­for­mance with hand­craft­ed lux­u­ry and cut­ting edge tech­nol­o­gy.
Lighter, faster and even more refined, the W12 TSI-pow­ered Con­ti­nen­tal GT will sprint to 60 mph in 3.6 sec­onds (100 km/h in 3.7 sec­onds), with a top speed of 207 mph (333 km/h) and a range of 500 miles. [WLTP dri­ve cycle: fuel con­sump­tion, mpg (l/100km) — Com­bined 20.8 (13.6). Com­bined CO₂- 308g/km.]
Mulliner – Rare by Design
Mulliner exists to respond to the require­ments of Bentley's most dis­cern­ing cus­tomers. Any type of per­son­al­i­sa­tion can be under­tak­en to cre­ate a unique Bent­ley of indi­vid­ual taste.
Mulliner's roots date back to the 1500's – the firm's orig­i­nal focus was cre­at­ing lux­u­ri­ous horse-drawn car­riages. In 1923 Mulliner show­cased work on a Bent­ley chas­sis for the first time, exhibit­ing a two-seater 3 Litre Bent­ley at the Olympia Show in Lon­don – just four years after Bent­ley Motors was found­ed.
In 1953, Mulliner coach­built one of the most icon­ic Bent­leys ever – the R Type Con­ti­nen­tal. This mod­el inspired the design of today's Con­ti­nen­tal GT. In 1957, Mulliner intro­duced the Con­ti­nen­tal Fly­ing Spur, a spe­cial four-door saloon built on the Bent­ley Con­ti­nen­tal chas­sis. Mulliner offi­cial­ly became part of Bent­ley Motors in 1959, set­ting up its work­shops in Crewe.
Via Bent­ley News­room
Fotógrafo profissional desde 1999, colaborou com diversas empresas, agencias de publicidade e gabinetes de imprensa.
Colaborou com o Blog Fashion Heroines como fashion phortographer.
É o fotógrafo oficial da Colorida Art Gallery.
Fundou a JLpress Sport News and Photo em abril de 2016 onde acumula os cargos de Diretor de conteúdos e fotógrafo.
Latest posts by Joao Lamares (see all)